The people:
four rising junior summer interns from MIT, Penn, LSU.
The plan:
to catch the bus to the northwest of Grenoble to a place where we can do HIKING.
Status of plan:
Improvisational!
Destination
: Lans-en-Vercors --> Some cool summit.
Result (spoiler!):
5 hours, 1835 meters in altitude, about 16km of hiking to amazing summit La Moucherotte (has
its own Wiki
!).
I was overlooking the Chartreuse
Mountain Range
from a 360 degree viewpoint on the summit!
And for a geographic overview, see the Le Moucherotte peak here: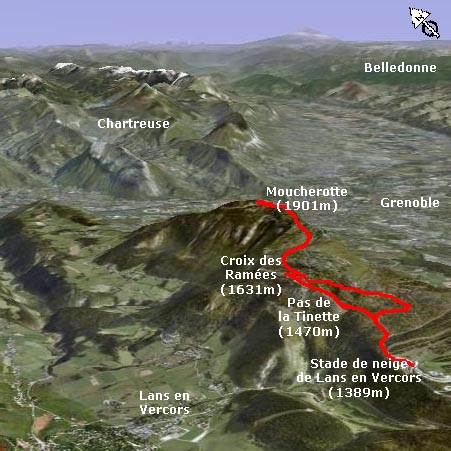 I knew that we could catch a bus to the beautiful Vercors mountains, but I had no plan, no maps of trails, just the knowledge that there are awesome hiking paths.
After about 50 minutes on bus 5110, we arrive at a small village. The tourism office was closed and not much people were in sight, except for a couple with bikes who were clearly also going hiking. I don't know where it was luck, or the necessity of the situation (since I had no idea where any of the hiking paths began) I went up to the couple and asked them in French where we could find a hiking path. They were nice enough to actually lead us to the beginning of the path, or show along which road we could turn into it, despite it being not exactly in their direction. One of them was from Quebec actually, and the other from Martinique, and I don't know what we would do without having asked them for directions.
"Go down this motor route, then turn into the little path with the yellow and red marking." they told us.
We did as we were told, and after accidentally going down a really sketchy and swampy path, we finally found the path paved by the yellow and red markers which reminded us of the German flag. From there on, the path led up, up and up, past small pastures, barns, cows, and some overprotective dogs.
Happy after finally seeing the correct path!
Cute horses.
Still on the road with cute dogs.
A peculiar small patch of trees.
Our destination was the summit La Moucherotte, the highest mountain peak in this Lans-en-Vercors region. After almost two hours of strenuous hiking through the forested mountain area, we finally came out into a clearing which gave us the urge to sing a song from the "Sound of Music".
Group selfie at 1/4 way there!
As we neared these rocky paths with cute mountain flowers and amazing views of gorges and valleys opening before us, we realized we were truly gaining some altitude. For me, this vastness of nature appeared in this way for the first time, and it was breathtaking.
About the 1/2 way mark!
More motivational views.
Three hours after the start, we arrived at the very top. It was well worth it any pain we might have had going up, being the amateurs we were while taking up this rather challenging hike. See for yourself:
Grenoble and the Alps in the background!
Mont. Blanc!
On the top of summit La Moucherotte.
All of Grenoble and Alps.
Once it was time to go down, we knew there was no way we were going to make the 6:05pm bus. So there was only one way out: hitchhiking. Or... Being the clever one I am, I saw a French couple on the top of the summit with us, and asked them for directions back to the closest village (not the same one from which we came). They told me that they are from the same village and could show us the way. This was wonderful, and it turned out that they were also going back to Grenoble and had two places in their car! They were really nice. Except we still had four people, and had to get out of there somehow. Or camp out in the mountains.
The path we took down was actually more extreme than the one going up - it was made up almost completely of rocks and almost on a vertical angle. Our companions had almost no trouble going down, while we kept falling and stumbling as the rocks kept slipping under our sneakers. "We are all going to die," said my friend and fellow intern Alexis '16, as we kept stumbling and picking up scratches.
When we finally got down from the steep 1.8 km slope, Alex, another intern, thanked God for his mercy. We all felt the same, and the French couple chuckled, and said that this shortcut to the village was actually the "easier" path. Ha.
Finally in the village, we each bought a liter of water and started contemplating how to hitch hike, since none of us had done it before. I saw an old couple seemingly packing a car, and asked them if they were going to Grenoble. The man immediately rushed me over to the side of the road and waved to a car with a family inside, who responded that they would be able to take one other person to Grenoble. Or two. We swiftly squeezed Alexis and Katie into the car and they zoomed off; I asked the family to drop them off at the tram end stop, conveniently in their direction.
It was just me and Alex left, so we waited for the couple we met at the mountains to go back to the city; they had two places. When the guy, Alexander, drove by the stop, he was alone and once we got in the car we realized that he is literally just dropping us off and getting back to the village. It was the nicest thing to do that. I learned he is a petroleum engineer and the young woman was actually a scientist at CEA where most of the interns here work. We had a nice chat about chemical engineering, the pros and cons of Paris, Grenoble, and Marseille. Alexander drove as fast as he hiked, and 20 minutes later, we were at a tram station at Grenoble. No matter what people may say about the French and being snobby, I have several personal testimonials of them being the most nice and incredibly lifesaving.
Onward we marched with our muddy sneakers and legs exhausted from all the downward and upward climbing. Although somehow it wasn't all that bad, since all was compensated by the spectacular views and the mountain breeze which feels like an A/C, but better. It tingles your skin and is fresher than any air down below. Just for that, all the scratches were 100% worth it.
The annual music festival, Fete de la Musique, awaited us in the city, but nothing it could offer could compete with the exhilaration of being on the top of the world!
The synchrotron from La Moucherotte.